2019 Autism Beach Bash
Sunday September 8, 2019 9am-4pm
The AFSNJ Autism Beach Bash is held each summer on the 7th Ave. beach in Belmar, NJ and features a surf camp with Surfer's Healing, a California based nonprofit specializing in working with children with special needs.
Autism Beach Bash
The Annual Autism Beach Bash remains the largest gathering in NJ of individuals with autism and their families. Families also attended from surrounding states such as New York, Pennsylvania, Maryland and Virginia.
The Autism Beach Bash presents an opportunity for the autism community to gather in support of one another, to challenge society's boundaries and most importantly to enjoy a day on the beach free of judgment The event includes an exhibitor tent featuring local and statewide services for individuals with autism, an activity tent, arts and crafts area, waterslide, dancing and interactive sessions throughout the day.
Become a Sponsor
Autism Beach Bash is memory making, life impacting to children living with autism and their families. Consider making a commitment to this one-of-a-kind surf event, with nearly 7,000 attendees noticing your support to the Autism community.
The Family Resource Network
Beach Bash is held annually on the
7th Avenue Beach in Belmar New Jersey.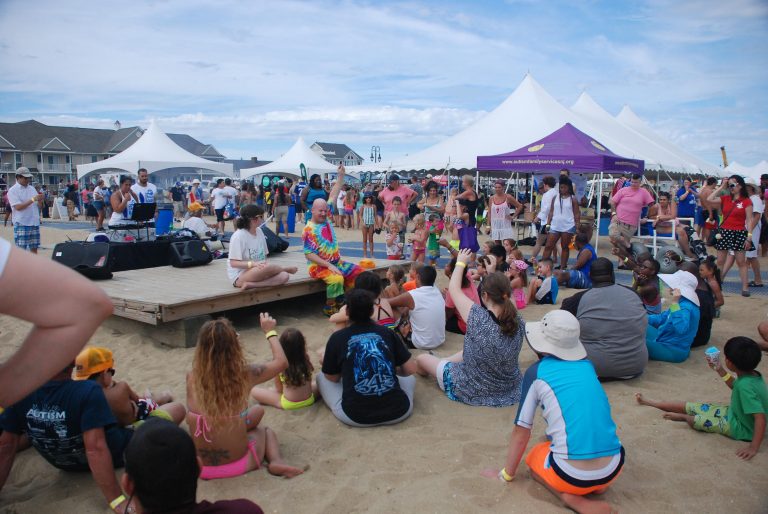 All Day Activities
Expo Tent – Gather information & learn about available autism support services across the state of New Jersey
Activities, Arts & Crafts Tent – The more you play the more you win! Have a blast trying your luck at our carnival games, playing sand trap mini-golf, and get your face painted by Chubby Penguins! Music Therapy with Tempo Music and Caribbean Sunrise.
Home Depot Activities – For do-it-yourselfers of all ages. Make and take woodcraft activities offered by Home Depot.
Ashrams for Autism – Yoga provided by Ashrams for Autism, scheduled throughout the day, all are welcome!
Water Slide, Zumba, Massage, Musical Entertainment & much more!
Main Stage Events
Welcome
Zumba – Throughout the Day
Awards
Mr. Scott the Music Man – 11:00 am, 1:00 pm, 3:30 pm
MJXpressions – 12:00 pm
Activity Tent
Carnival Games – 9:00 am – 4:00 pm
Captain Hook's Treasure Dig – 9:30 am, 11:30 am, 1:30 pm, 3:30 pm
Sand Trap Miniature Golf – 9:00 am – 4:00 pm
Yoga
45 Minute Sessions
10:00 am, 11:00 am, 12:00 pm, and 1:00 pm
About Surfers Healing
"We take kids with autism surfing. We paddle out together on tandem boards to catch the waves that come our way. That's what we do; that's what we love.
On the surface, our contribution seems simple: each year, our volunteer-staffed camps give over 4,500 children with autism and their families a fun, engaging day at the beach."